The integration of corsetry with other garments has long been a fascination for me. For me, creating a garment that is functional, both as wearable clothing and a curvaceous corset, is an incredibly satisfying challenge. For you, it can simplify the process of working corsetry into your wardrobe. Email me for an integrated corset consulation.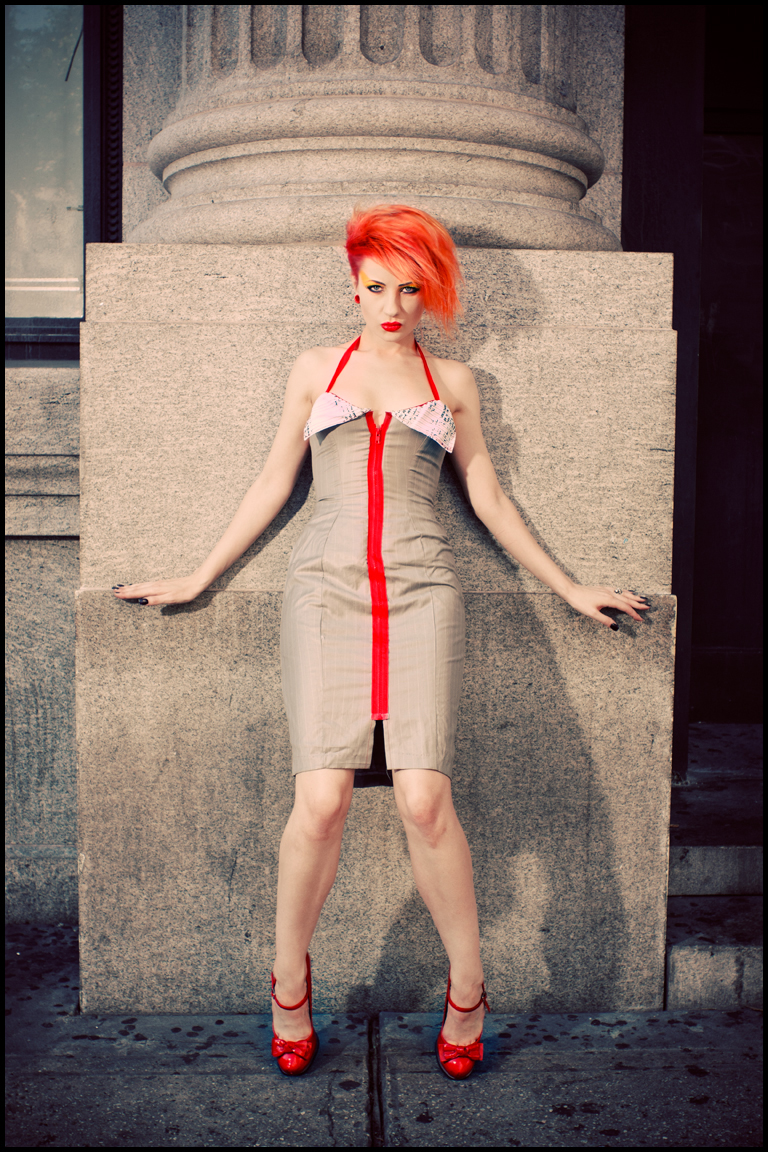 Stealth
Much of my fascination with integrated corsetry is in allowing the silhouette to speak for itself, streamlining the visibility of the structure so that the architecture of a piece doesn't distract from the overall design. Boning channels may be hidden inside, the busk replaced with a zipper. The specifics are worked out in accordance with the needs of each individual design.
Structure
Just as with my signature knit corsets, integrated corsets feature the same quality of hardware as those that are classically constructed. Depending on the style, the body may be sewn with classic corset construction or a lightweight single layer style.
Function
Corset dresses and other classic types of corseted garments are often physically very restricting. As a designer, it's my goal to incorporate the corset shaping and structure in a way that doesn't limit its wearability or your movement.
Sample Designs
The below concepts are just a few examples of the possibilities of Integrated Corsetry. Variations on these styles as well as an assortment of other original designs are also available.
Shirtwaist Corset
The Shirtwaist Corset combines - what else? - a curvaceous corset with a classic tailored shirt. The back laces closed all the way up to the collar, the front features a keyhole and classic busk. The inset short sleeves feature oversize cuffs, proportionate to the super-tall collar. This design must have a fully custom fit and multiple mockups; in-person fittings are recommended.
Tie-Back Blouse
A retro-inspired design, this top joins a sash-back v-neck blouse to a RTW waspie. Available in a wide array of fabric combinations, this corset is easily personalized to match your personal taste. Picture it also in a gauzy tricot or even silk jersey with a slit center front, allowing it to join to an underbust with a standard busk closure at center front. From the front, this is a great stealth style.
Jersey Corset Dress
This slinky corset dress is top rated for corset camouflage. All the corset's structure is tucked away behind sleek jersey, including the back lacing, which keeps the focus on curves, curves, curves. The Queen Anne neckline plunges daringly to the front zipper, but long sleeves add a touch of modesty. Style with opaque tights, ballet flats, and a cardigan for a daywear look.
Peplum Skirt
A simple style with a lot of versatility, the underbust peplum skirt can be based on ready-to-wear corset size or custom fit. For RTW fit, please order up a size and lace closed. A peplum in contrasting or matching fabric accents the seam where the skirt joins. Beneath the peplum are hidden functional pockets, the perfect size for a smartphone or card case. The back of the skirt zips up below the lacing.